Oral Chemotherapy
Many of the chemotherapy agents introduced in recent years come in the form of a tablet, capsule, or liquid. This is particularly true of the metabolic inhibitor drugs, such as kinase inhibitors. Indeed, of the 69 new drugs approved by the FDA for cancer treatment from 2015 through 2020, 44 are designated for oral administration. Cancer patients have long taken pills as
chemoprotectants
or to address side effects, but it is only in recent years that antineoplastic medications have come in pill form. While all patients should follow doctors' orders in taking medicine of all sorts all the time, special attention should be given to chemotherapy medicine. It truly must be taken on time and the correct dose to fit in the prescribed regimen. Patients often (perhaps subconsciously) think IV chemotherapy is the real deal, while oral preparations are less serious and/or effective. However, oral chemotherapy is a real treatment. Patients need to take it seriously. When taking oral chemotherapy at home, patients usually get special instructions from the medical team and there are many
precautions to be followed.
Sometimes the care team prefers that the patient take the oral chemotherapy in the office or clinic in the presence of a nurse. There are good reasons for this
The high cost of oral chemo agents (many are expensive because they are still patent-protected) means some patients decline to get their prescription filled and do not follow doctors' orders.
Even if the patient has the medicine in his or her home, he or she may fail to take the medicine or take it at the wrong time or at the wrong dose. This might be due to forgetfulness or other reasons.
The medical team does not want the patient to have an inventory of the drug, but instead receive it right as it is ingested.
The other part of the combination regimen may include medicine that must be delivered at the clinic (e.g. intravenously)
Cytotoxic or inhibitor drugs
Afatinib Abemaciclib Abiraterone Acalabrutinib Alectinib Alpelisib Altretamine Apalutamide Arsenic Trioxide Avapritinib Axitinib Azacitidine Bicalutamide Binimetinib Brigatinib Busulfan Cabozantinib Capecitabine Capmatinib Carmustine Ceritinib Chlorambucil Cladribine Cobimetinib Copanlisib Crizotinib Cyclophosphamide Dabrafenib Dacomitinib Dasatinib Degarelix Duvelisib Enasidenib Encorafenib Entrectinib Enzalutamide Erlotinib Estramustine Estramustine Everolimus Flutamide Gefitinib Gilteritinib Glasdegib Goserelin Ibrutinib Idelalisib Ifosfamide Imatinib Infigratinib Isotretinoin Ivosidenib Ixazomib Lapatinib Larotrectinib Lenvatinib Leucovorin Megestrol Melphalan Mercaptopurine Midostaurin Mitotane Neratinib Nilotinib Nilutamide Niraparib Olaparib Osimertinib Palbociclib Panobinostat Pazopanib Pemigatinib Ponatinib Pralsetinib Procarbazine Regorafenib Ribociclib Ripretinib Rucaparib Ruxolitinib Selinexor Selpercatinib Sonidegib Sorafenib Sotorasib Sunitinib Talazoparib Tazemetostat Temozolomide Tepotinib Thioguanine Tivozanib Toremifene Trametinib Trifluridine/Tipiricil Tucatinib Umbralisib Vandetanib Vemurafenib Venetoclax Vismodegib Vorinostat Zanubrutinib
Hormone agonists or antagonists used in treatment of cancer
Abiraterone Apalutamide Bicalutamide Darolutamide Degarelix Estramustine Enzalutamide Flutamide Goserelin Mitotane Nilutamide Megestrol Tamoxifen Toremifene
Aromatase inhibitors
All
aromatase inhibitors
given in adjuvant cancer therapy are oral. Anastrozole Aminoglutethimide Letrozole Exemestane
Taking the Drugs with Food
Should oral chemotherapy drugs be taken on an empty stomach or with food? As with any medicine, it is best for the patient to follow the instructions that come with the medicine and whatever the cancer care team (nurses and doctors) say. It is interesting, however, that different drugs have different instructions.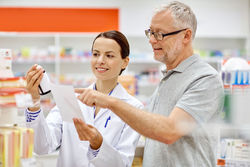 Food with high fat content often helps medicines become more bioavailable – a greater percentage of absorbed in the digestive system – but often the medicine should be taken first thing in the morning, before breakfast. This kind of thing is determined in clinical trials and the manufacturer knows how to advise patients and doctors. A
review found
that early stage trials usually give the patient the drug on an empty stomach and claimed many drugs got to approval without the right food studies to determine how they should be taken. Even among kinase inhibitors, some are recommended to be taken with a meal and some while fasting.
Researchers at the University of Chicago
compared the labels of oncology drugs and other drugs and concluded that the instructions for "oncology drugs are in contradiction with fundamental pharmacologic principles," They found cases where it was known that food-drug interactions increased bioavailability of the active medicine but the label nevertheless told patients to take the pills after fasting.
An article in the science magazine Undark
mentioned that some oncologists have noted that a lower dose is needed when the pill is taken with food, and that changing recommendations so that patients take the pills with food may have benefits.
Worries about Interactions
Intravenous medicines are delivered under medical care, but oral medicines are often taken by the patient at home. This raises concerns about adherence – do the patients always take their medicine as directed? There are also concerns about interactions between the oral medicines and food in the digestive system, and between the cancer medicines and other medicines the patient may take, although interactions are a potential hazard no matter what method of delivery is used.
Adherence Questions
Medical pros worry about whether patients take their medicines as directed. This issue used to be called "compliance" but it's now called "adherence". Studies show that patient adherence can be low for all sorts of medicines. The oncology world largely sidestepped this problem because cancer drugs were given intravenously and hence by professionals in a clinic or doctor's office. However, now that so many cancer drugs are pills and taken by the patient at home, adherence is now an issue. Patients must be instructed closely as to when to take their medicine and that the pills should not be doubled-up.
Chemo Parity
While a common arrangement of insurers was to covered IV chemotherapy costs with only a nominal co-pay expected of patients, but not to cover pills in the same way. Prescription oral medication drugs were either not covered at all or were in a separate tiered structure that called for the patient's share to increase with increase cost. While this was not a burden for patients when pill costs were low, many of the new oral chemotherapy drugs are priced like IV drugs and can cost tens of thousands of dollars per month. The high cost of oral chemotherapy agents means some insurers won't pay for them because conventional IV drugs are available. Some states have
adopted "chemo parity"
laws which require equal treatment of drugs regardless of how they are administered. The federal government does not have such a law. The Cancer Drug Coverage Parity Act was introduced in 2015 and another Cancer Drug Parity Act was introduced in 2017 but neither passed Congress. It would have
required insurance companies
to "not, for anticancer medications: (1) change or replace benefits to increase out-of-pocket costs; (2) reclassify benefits to increase costs; or (3) apply more restrictive limitations to orally administered medications than to intravenously administered or injected medications." Spanish:
Quimioterapia Oral